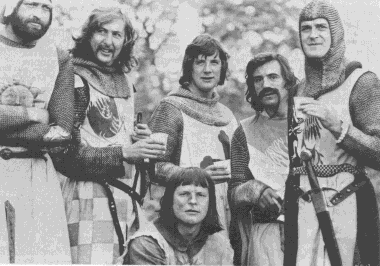 We were visited by some silly English knig-its!
The last week has been gloriously and very pleasently busy. We had the pleasure of playing host to a visiting wargamer pal and his lovely wife. I dragged them both dragged around Dublin for a quick tour before returning home to Mrs. Kinch's cooking. Dinner and a game followed. There was also the intriguing possibility of more games by G+ or other video conferencing, so a success all round.
Maryville House Tearooms and B&B
(Mrs. Kinch for scale)
After playing host we waddled off to Belfast for a few days away and had a really lovely time. We were a bit confused as the city seemed utterly deserted on Monday, but we had forgotten that "The Twelfth" had been on the 12th and everyone seemed hungover and slightly bewildered. Though in a rebranding exercise that it possibly the greatest thing since usury became interest, the festival is now
Belfast Orangefest
. A bit odd to be sure, but a distinct improvement. So, we went to Belfast on Monday and basically it was shut. But we were happy to sit and read our books and generally relax - that to be honest was the plan anyway.
We stayed in the
Maryville House Tearooms and B&B
, which I recommend unreservedly. The food was excellent, the room wonderful and the staff uniformly lovely. To be honest, this was one constant of our trip to Belfast, with the exception of two ladies who were very trying (and were from Cork), the people in Belfast were friendly, helpful and couldn't have been nicer.
Dinner on Monday was French as befitted the occasion and it was really splendid.
La Bastille
on the Lisburn Road was top notch and we drank the health of the Swiss Guards and confusion to the Republicans in fine style.
Albert Memorial Clock
For anyone who likes Victorian and Edwardian architecture Belfast is a feast. My little Iphone camera simply wasn't up to capturing it in all its glory, but for what its worth - here is the Albert Memorial Clock. City Hall was a treat as well and well worth looking at. To be honest, you can't go very far in Belfast without seeing some really splendid architecture. The late Victorian stuff is a lot fancier than the often quite austere Georgian lines of my own home town. I don't pretend to know much about it, but it is certainly something to drink in.
Nelly cooling off.
Mrs. Kinch was very keen to go to Belfast Zoo. Now I was a little anxious about this, as Dubliners we have become used to going to Dublin Zoo and Dublin Zoo is world class. With the exception of Longleat Animal Park, it is probably the best place to go see animals that I've ever been. This does mean that on occasion, we have gone to zoos that didn't met that standard (Berlin Zoo springs to mind) particularly with regard to animal care. Happily Belfast Zoo was top notch and I would recommend it.
Two things we noticed while attending. Firstly, bring good shoes. The zoo is build on a hillside and there are quite a few steep slopes. Parents might want to consider bringing the sling and leaving the buggy at home. Secondly, most of the animals were asleep - Mrs. Kinch maintains that this was because of the hot weather, I know better. They were clearly recovering from the after effects of Orangefest. It's the only explanation that makes sense.
Cecil the Piglet had been marching with a drum for quite
some time and was plum tuckered.
(bowler hat out of shot)
Yvgenny the Meerkat on post
The Meerkats were quite lively - though I suspect that it because they are
Orthodox
and therefore did not attend the party.
Though while we were there, we did run into a get together for the The Miniatures Page Message Boards.
It was just as I remembered them.
Mrs. Kinch looking slightly miffed outside the Crown
.
The Crown Liqour Saloon is a famous pub in Belfast that was refurbished in the 1880s. The job was done as a nixer by Italian workmen who were working on churches in the area at the time. It sumptuously appointed and the interior is wonderful.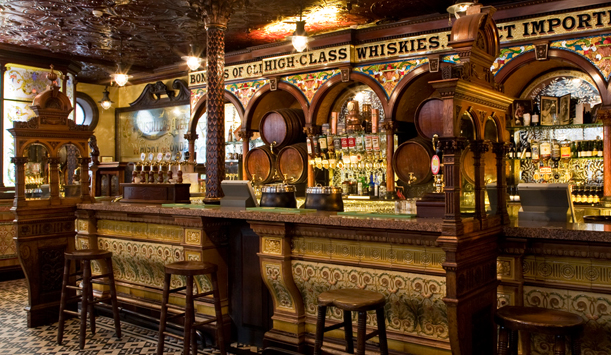 Photo from Ireland.com
My Iphone camera wasn't really up to capturing the interior due to poor lighting, but as you can see from this shot of the interior - it is really something. Unfortunately, the sumptuous interior is pretty much where it ends. If you are going to Belfast and would be interested in seeing a particularly fine example of a late Victorian pub, the Crown should not be missed. However, the service was very poor, the drinks expensive and the selection not much better than one would get in the average boozer in Dublin. A bit of a one drink wonder. Go see it - but I wouldn't spend the night there.
Mrs Kinch outside The Aether & Echo, looking distinctly cheerier
In terms of pubs, The Aether & Echo, was our find of the trip. Best described as a "steampunk pub" it comes across as a bit poncy - it's website actually has a manifesto outlining the ethos of the pub - but don't be dissuaded, it is wonderful. A well appointed Victorian interior with plenty of snugs welcomes you as you enter. The bar staff were extremely friendly and I must say well turned out. Slightly more expensive that the average bar - but the quality of the service was superb and the drinks menu was very impressive. We visited there every day for three days and I didn't manage to try the same gin twice. Top notch. I only regret that we didn't eat there sooner as the food was superb. Two thumbs up - we will be returning.
The Titanic building
No trip to Belfast would be complete without a trip to the Titanic experience. This was Mrs. Kinch's idea and I'm very glad she talked me into it. The exhibition is very well laid out and covers a great deal of ground. The history of Belfast as a port, Harland and Wolf as shipbuilders, the construction of the ship and the tragedy itself. I found the last bit quite hard to watch - but it was impressive. Mrs. Kinch certainly enjoyed it and I would recommend it to anyone visiting Belfast. It's a little bit of a trek from the train station, so you might be better off getting the bus.
Though to be fair, probably one of the highlights of seeing the Titanic experience was listening to a couple discussing it while we left. One of them said, "I'm disappointed. I don't know what I expected. I thought there would be a boat."
Words failed me.
Speaking of transportation, if you are visiting Belfast, I would urge you to consider the visitor pass. It's £14 for a three day pass and allows you unlimited travel on buses and trains within the city. It also carries with it a number of discounts, so remember to look at the list written on the back and present it when you are buying your ticket. By making use of the discounts at the Titanic and the Zoo, we made back almost half the cost of the two passes that we bought - so it is worth bearing in mind.
Required reading so far as Kinch is concerned
Once we were done at the Titanic, we returned to the Aether & Echo for some excellent food and to explore more of their excellent drinks menu. I particularly recommend the No. 47 Monkey gin (both dry and sloe), the Paloma, the New York Sour and the Alhambra Club Cocktail.
The loot
Now, no trip to foreign parts would complete without dropping in on a second hand bookshop. The Internet means that new books in English are pretty much available anywhere, but second hand bookshops still have their charm. We paid a call to the rather excellent Keats & Chapman and emerged with heavier bags and lighter wallets.
My share of the loot was a proof copy of a Byron Farwell that I had not encountered before, a book on Zulu Kings (always good for a laugh and generally makes the Wars of the Roses look like a school picnic), Memoirs of a British Agent by Lockhart (which I'd heard of, but never read), The Massacre of Glencoe by John Buchan (bought purely for his name, I've no idea what this was) and a relative rarity, a enlisted Sepoys account of life in the Indian army.
On the whole, an excellent trip and we will be returning. Recommended.