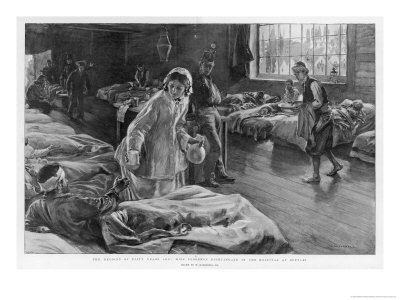 In Scutari Florence Nightingale Attends to a Patient
by William Hatherell (1855-1928)
The last ten days have been rather frustrating. I had taken leave to finish my dissertation and came down with a rather nasty chest infection the day after. I was able to soldier on somewhat and while I was feeling rather grim, I managed to make some progress each day.
I was prescribed antibiotics, new shiny antibiotics, that I proved to be allergic to - now to give them their due my chest problems cleared quickly, but were soon replaced with a sweating, shivering and generally unpleasent state of being where it was unwise to stray too far from a bathroom. The cure took rather more out of me than the disease - I'm down about four pounds I think, perhaps a trifle more.
I am, God be thanked, back on my feet - but I am lamentably short of time in which to finish my dissertation. There will be plenty of hard pounding over the next two weeks in order to put things in order.
I did divert myself a little while bedridden, reading a great deal of
Saki
, which I thoroughly enjoyed and preparing a unit of John Cunningham's Sikh Akali for the forces of the Rajah of Kaala-Akhaati. These were based and undercoated very quickly and passed on to a friend of mine who does a spot of painting on the side, along with the first compoo of the Rajah's European trained regulars.