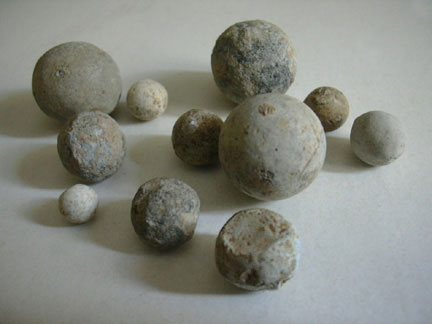 Musket Balls various.
Donogh and I had been thinking about the problem of modelling ammunition consumption in a wargame, particularly 20th century wargames, where morale is often inextricably linked to the supply of the ammunition, as Cooper put in in Dog Soldiers
"...high spirits are just no substitute for eight hundred rounds a minute."
The discussion came about because we were talking about the possibility of adapting Memoir '44 to the rather smashing
Very British Civil War
. This is of course, the very kind of conflict where ammunition supply is key, due to the ramshackle logistical tail and the brittle morale of the militias and other enthusiastic amateurs that make up the majority of the fighters.
The idea was to have each side be given a certain number of fire units which are consumed when units shoot. There was also the possibility of assigning special fire units to particular weapons, e.g. artillery and mortars. If a player intended to shoot, he must hand over a fire unit to his opponent.
As I am a great believer in gimmicks, the plan was to use spent brass as fire units, with larger calibres representing special weapons. An additional wrinkle would be to give the player a look at how many fire units he has and then place them in a box from which he must draw blindly, keeps a rough mental cost of how much ammunition he has remaining.
While it is unlikely that the Very British Civil War project will ever get off the ground, I would like to give this idea a go with my Horse & Musket forces.
Which begs the question, where does one get musket balls in this day and age? Bearing in mind that I live in a state where firearms are strictly controlled and black powder firearms are virtually unheard of.
Any advice my American and Canadian chums?