The Classic Airfix Waterloo Farmhouse
I got my paws on one of these relatively recently as part of an online trade. It was an old set rather than the newer version which was re-released bundled with figures. I had one back in the beginning of my wargaming career, but a careless attempt to strip paint from it resulted in it being badly warped and being made unuseable even as a burnout shell.
Unfortunate - but now made right.The new set cost me the princely sum of €10 and I regarded it with some suspicion when I got it out of the box. What I'd forgotten over the years is that, it's rather big compared to my other building, excluding perhaps Italeri's church which is huge. Now while this makes it a very attractive model it does make it more difficulty to actually use it in a wargame.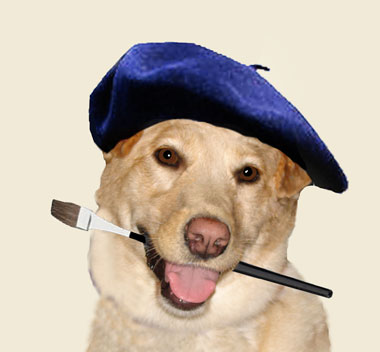 Capability Savage
Enter Capability Savage, graphic designer, mystic and man about town. His beret was at a jaunty angle, his smock was stained with paint and his breath reeked of white spirit and gin (we'd suggested tonic as a mixer, but apparently that's for girls), he took the lot off my hands and said he would return later.
Capability Savage, without his usual smock and beret, explaining
"the plan" to General Du Gourmand
I didn't hear anything from him for a while, so I eventually braved the strange sights and smells of Monto to visit Savage's garret, where in between sips of methylated spirits, he showed me what he'd been working on.
The construction is almost complete, the gate lacks its roof, but otherwise the model is almost ready to take paint. So far, so good. However, the essential problem remains - the model takes up a deal of space and that makes it very difficult to use in a wargame.
Behold, the amazing modular Waterloo Farmhouse.
My Hotz mat is broken up into five inch hexes. Most of my building will fit in a single hex, but what Savage has managed to do is break the kit up and base it (on 3mm MDF I think) in such a way that for Old School or skirmish gaming, the whole thing can be used as intended.
Should I wish to use the building on my Hotz mat, they can be used singly taking up one hex or in combination, taking up three or four. Note the additional brickwork added to the piece above, the blank plastic walls on the original kit sent Savage into one of his rages, which could only be assuaged with opium.
He also added cobblestone effect plasti-card to the interiors so that the illusion won't be broken during skirmish gaming.
A gable end was added to this large piece, so that it could be used as a stand alone structure without causing comment or leaving a draught.
Note the precisely cut MDF base which allows all the building and walls to be assembled in such as way that everything is flush together.
A farm building soon to be seen all over France and Belgium
I'm very happy with the work that Savage has done and I think that it will look really something when he's done. A nice blend of the Old School and practicality.
There is of course the added bonus that as a Capability Savage original, it will increase in price substantially after he stabbed by one of the flame haired strumpets that pose for him or he kills himself with laudanum.
- Posted using BlogPress from my iPhone