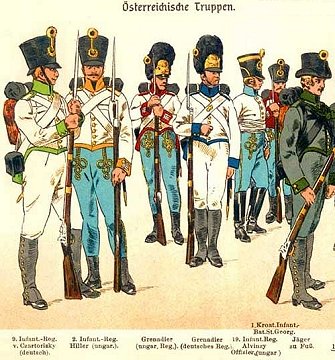 Austrian Infantry (artist unknown)
I was writing yesterday about the need to learn more about the Austrian army. I had a few idle moments last night and had a look at the information that was available on my phone, which was when I found
this
, an admirably clear introduction to Austrian Regular Infantry.
I also noticed that it was written by a friend of mine, Mike Embree. This of course begs the question what else Mike has been hiding under a bushell.
Mike doesn't interest himself in Napoleonics these days which is a pity, but it does mean that he can devote his time to writing books about his new period, the mid 19th century. He's an active member of the
Continental Wars Society
. His last book,
Bismarck's First War
explored the
Danish-Prussian War of 1864
in great detail. The conflict is an unusual one in that the methods with which it was fought are comparable with the Franco-Prussian or American Civil War, but the Casus Belli and the general air of the thing retain the whiff of the 18th century.
Mike's strength is the clarity of his prose* and his tenacity in pursuit of original sources. If the book has a weakness, it's that the publisher did not see fit to give sufficient space to the plethora of maps, etching and illustrations that Mike managed to track down. Mike has a new book in the pipeline, but more on that anon.
*I finally understood the Schleswig-Holstein question - though I'm still at a loss as to why one would go to so much trouble over two buckets of paint and a duck.